My Daily Proverb
New King James Version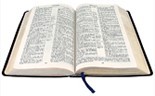 Select the date in the table below to read the corresponding Proverb.
May Our Lord Richly Bless You!
The Complete Jewish Bible 1998
New American Standard Bible 2020
La Biblia Reina-Valera 1960 En Español
La Biblia Reina-Valera 2015 En Español
New American Bible Revised Catholic Edition
King James Bible With Strong's Concordance
To learn the meanings of selected words in the Proverbs text, please select a Strong's Concordance Bible above.
Would you like to HEAR the Proverbs read to you? After selecting the corresponding date, look for this button (Listen to the Bible) in the Bottom Menu Bar and click on it.

Then select your Bible version, narrated or dramatized with actors.




Presented by Pastor Jason Gant
Got a Bible Question? Email Pastor Jason by Clicking Below.

Read Pastor Jason's Blog, One Pastor's Perspective
Living As A Christian In Today's World From A Biblical Perspective
by clicking HERE or on the Flashing Lighthouse Button above.
Click HERE To Learn About Our FREE 401(J) Retirement Plan!